Global WMS Market Ecosystem
The global WMS Market is medium-to-highly competitive and is in a growing phase.  Some of the global major players in the market are Körber AG (HighJump), Epicor Software Corporation Oracle Corporation, Reply, Blue Yonder, SAP, Manhattan Associates Inc., PSI Logistics, etc.
Key Market Findings:
Many manufacturing and retail industries are more likely to adopt the WMS services to enhance efficacy with optimizing operation cost with increasing consumer demand in future.
Services by Component and Cloud by Deployment market segmentation is probable to dominate, owing to escalating demand.
Asia Pacific Region is anticipated to have the highest market share, followed by Europe compared to the other regions of North America, South America and MEA.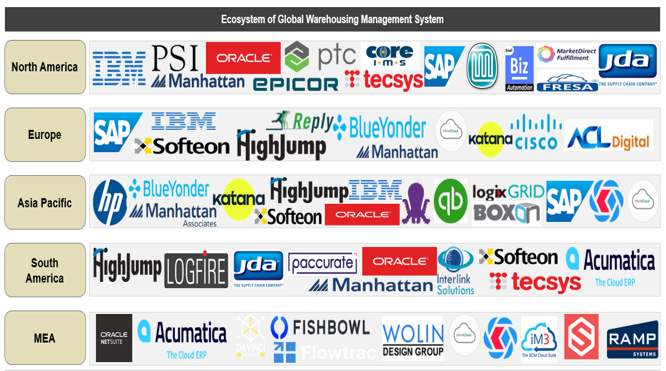 Interested to Know More about this Report, Request for a sample report
AI and Technologies: The emergence of global technologies such as AI is transforming most organizations, including warehousing. The sustainable supply chains and their partners using the latest technologies will be key drivers for future growth. Also, in near future, there will be high demand and adoption of automation and cloud services. Moreover, there will be regional government initiatives to promote and improve warehousing management systems.
Adoption of Cloud-based Applications and Services: Factors such as spurring demand in the retail and manufacturing sectors and high disposable incomes of consumers are major factors expected to support segment growth in the forthcoming years. Additionally, the increased adoption of cloud-based applications and services is anticipated to rise as more and more businesses recognize the benefits of using these tools. The result is that the demand for cloud deployment is only going to increase in the coming years.
Adoption of WMS Services to Enhance Efficacy: Many manufacturing and retail industries are more likely to adopt WMS services to enhance efficacy by optimizing operation costs with increasing consumer demand in the future. Even the healthcare segment is anticipated to emerge as a prominent adopter of WMS, as providers are building facilities taking into consideration the prerequisites of the healthcare sector.
The demand for System Integration: The warehouse of the future will take advantage of automated capacity management by leveraging technology for better, data-driven capacity planning. Thereby, system integration and maintenance will be demanded even by small and medium warehousing businesses where this segment is anticipated to grow in near future.
Analysts at Ken Research in their latest publication "Global WMS Market Outlook to 2028 – Driven by the rising trend of e-commerce, expansion of warehouses coupled with technological advancements and favorable government policies" observed that the Global Warehouse Management System market is in a growing phase. Increasing integration between automated & manual processes, Expansion of E-commerce and Omni-channel Fulfillment, Mitigation of Distribution Costs, and Transitioning Towards Cloud-based Systems are some of the factors that have contributed to the Global Warehouse Management System market growth. It is expected that the Global Warehouse Management System market will grow at a CAGR of 15.2% for the 2022-2028 forecasted period.
Key Segments Covered
Global Warehouse Management System Market:
By Component: 
By Deployment: 
By Application: 
Manufacture
Retail
Healthcare
Food & Beverage
Transport & Logistics
Others
By Function:
Systems Integration & Maintenance
Billing & Yard Management
Labor Management System
Analytics & Optimization
Consulting Services
By Region
Europe
North America
Asia-Pacific
South America
Middle East & Africa
Visit this Link :- Request for custom report
Key Target Audience
Logistics Companies
Logistics Consultants
Warehouse Management System Market Players
Warehouse Management Systems End-users
Warehouse Management Systems Investors
Potential Investors in Warehouse Management Systems Companies
Warehouse Automation Companies
Warehouse Management Systems Industry Associations
Warehouse Management Systems Consulting and Research Firm
Warehouse Management Systems Venture capitalists
Warehouse Management Systems Third-party knowledge providers
Government Authorities for Warehousing and Distribution
Time Period Captured in the Report:
Historical Period: 2017-2022
Base Year: 2022
Forecast Period: 2023 – 2028
Companies Covered:
Körber AG (HighJump)
Epicor Software Corporation Oracle Corporation
Reply
Blue Yonder
SAP
Manhattan Associates Inc.
PSI Logistics
Softeon
TECSYS Inc.
FourKites
Infor, Inc.
Mad4net
FourKites
NICE Ltd.
Project44
Synergy Logistics, Inc.
Fishbowl Inventory
Key Topics Covered in the Report:
Snapshot of Warehouse Management Systems Market
Industry Value Chain and Ecosystem Analysis
Market size and Segmentation of Warehouse Management Systems Market
Historic Growth of the Overall Warehouse Management Systems Market and Segments
Competition Scenario of the Market and Key Developments of Competitors
Porter's 5 Forces Analysis of Warehouse Management Systems Market Industry
Overview, Product Offerings, and Strength & Weaknesses of Key Competitors
COVID 19 Impact on the Overall Warehouse Management Systems Market
Future Market Forecast and Growth Rates of the Total Warehouse Management Systems Market and by Segments
Market Size of Application / End User Segments with Historical CAGR and Future Forecasts
Analysis of Warehouse Management Systems Market in Global Regions
Major Production/Supply and Consumption/Demand Hubs in the Region
Region-wise Historic and Future Market Growth Rates of the Total Market and Segments
Overview of Notable Emerging Competitor Companies within the Region
For more information on the research report, refer to below link:
Related Reports:
KSA Warehousing Automation Market Outlook to 2026F- Increasing demand of E-commerce sector and rapid integration of automation technology support the market growth
Global Warehouse Automation Market Research Report with Opportunities and Strategies to Boost Growth- COVID-19 Impact and Recovery
Kuwait Warehousing Market Outlook to 2026F– Driven by Rise in Demand for Technologically Advanced Warehouses by Different End Users