Ecosystem of Plastic Pipes Market in Indonesia
Indonesia Plastic Pipes Market is at a growing stage and has a moderately fragmented market. There are ~ 55 manufacturers and ~120 distributors in the Indonesia Plastic Pipes Market. Top 3 manufacturers such as PT. Wahan Duta Jaya Rucika, PT Rusli Vinilon Sakti, and PT Maspion Kencana in Indonesia Plastic Pipes market hold major market share. Players are competing against each other on the basis of production capacity, distributor dealer network, production volume, product offering, sales volume, manufacturing units, client base, certifications and standards.
Key Findings
The PVC market in Indonesia has reached maturity and is expected to experience a decline in market share due to government initiatives promoting the use of PE pipes and imposing restrictions on the use of PVC pipes for water irrigation and clean water supply.
HDPE pipe is expected to have largest market share at the end of 2027 because it is a type of flexible plastic pipe used for fluid and gas transfer and is often used to replace ageing concrete or steel mains pipelines.
The market is expected to increase due to increasing building construction and accelerated urbanization in the country.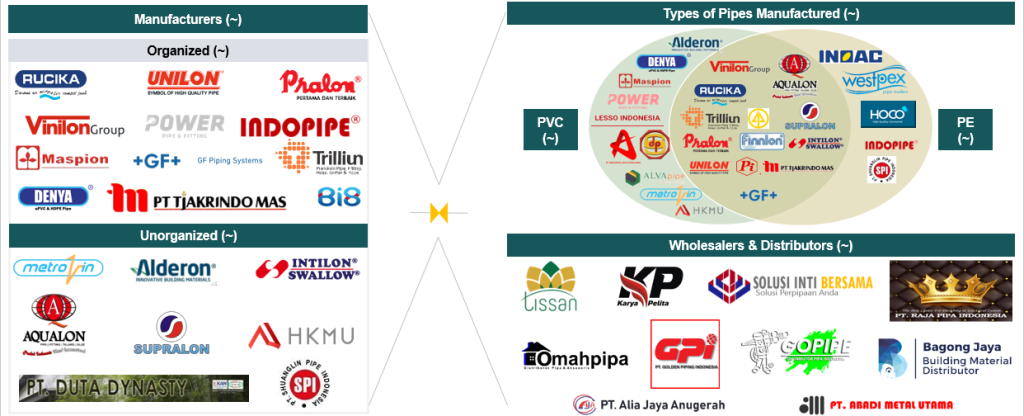 Interested to Know More about this Report, Request for a sample report
Use of Anti-Microbial Plastic Pipes to Improve Hygiene: Anti-microbial pipes are now being offered by pipe manufacturers. Any contaminated bacteria's cell walls will be actively penetrated by the antibacterial formulation of the pipe, which prevents them from surviving and reproducing on the surface of the pipes. Due to the rise in life, this property will be very helpful in irrigation fields.
Increasing Consumption of Multilayer Plastic Pipes: The utilization of multilayer plastic pipes for gas delivery is becoming increasingly common. In order to broaden the potential pressure range for gas delivery, multilayer plastic pipes are now being developed. Small diameter aluminum center-layered pipes are simple to install and have a high level of leak and crack resistance.
Regularization in Sewage System: With the creation of new sewage projects, the country's sewage system is advancing. 2023 will see the construction of the Jakarta Sewerage System (JSS) by the DKI Jakarta Provincial Water Resources Service.
Use of Cross-Linked Polyethylene, or PEX Pipes: More than half of the nation's new construction projects employ cross-linked polyethylene, also known as PEX pipes, according to the Plastics Pipe Institute. Lightweight, flexible, portable, simple to install, and long-lasting are all characteristics of PEX pipe.
Analysts at Ken Research in their latest publication "Indonesia Plastic Pipes Market Outlook to 2027- Driven by increase in housing, high rise real estate development and establishment of new capital city in Indonesia" observed that Plastic Pipes Market in Indonesia is at growing stage. The rising government policies and demand for plastic pipes, infrastructural development along with government initiatives is expected to contribute to the market growth over the forecast period. The market is expected to grow at an 7.3% CAGR during 2022-2027.
Key Segments Covered in the report:
Indonesia Plastic Pipes Market
By Type of Plastic Pipe
By Type of PVC Pipe
By Type of PE Pipes
By Market Structure
By Domestic Sales/ Export
By Type of End Users
Water Supply and Irrigation
Industrial & Mining
Sewage
Electricity
Others
Visit this Link :- Request for custom report
Key Target Audience:
Plastic Resin Suppliers
Plastic Pipe Manufacturing Companies
Oil and Gas Industry
Government Bodies
Real Estate developers
Agriculture Sector Companies
Time Period Captured in the Report:
Historical Period: 2017-2022
Base Year: 2022
Forecast Period: 2022-2027
Companies Covered:
Pralon
Wahan Duta Jaya Rucika
Vinilon Group
Pt Langgeng Makmur Industri Tbk
Maspion Kencana
George Fisher Piping Systems
Unilon
Power Pipe and Fittings
Wavin
Triliun
Alderon
Denya (PT. Sinar Utama Nusantara)
Intilon
Supralon
Aqualon (PT Cipta Anek Agung)
Inoac
Westpex (PEX and Conduit also)
Toro (Cahaya Selatan International)
Hoco
Lesso Indonesia
Finnlon (PT. Indrasari Kencana)
Indopipe
Sumber Djaja Perkasa (Hexalon PVC)
PT Shuanglin Pipe Indonesia
Pipamas Primasejati
Tjakrindo Mas (Brands are-Supralon, Excellon, and Supramas)
Argantha Jaya Globalindo
Alva Pipe (HDPE)
PT Bangun Indopralon Sukses (Brands- Mpoin+, Pipaku)
Dinamika Sinergi Mitratama
PT HK Metals Utama Tbk (PT Rasa Langgeng Wira- VORZA)
Inti Prima Electrinda
PT Invilon Sagita
PT Duta Dynasti
Lingkar Matra
Lestari Putra Sentosa (Brand- Metrovin)
PT Mepoly Industry Corp
Key Topics Covered in the Report:
Market Overview of Indonesia Plastic Pipes Market
Market Segmentation of Indonesia Plastic Pipes Market
Porter's Five Force Analysis and Demand Drivers of Indonesia Plastic Pipes Market
Emerging Trends and Challenges of Indonesia Plastic Pipes Market
Regulation in Indonesia Plastic Pipes Market
Competition Framework of Indonesia Plastic Pipes Market
Future Outlook of Indonesia Plastic Pipes Market
Analyst Recommendation
Industry Speak
For more information on the research reports, refer to below link:
Indonesia Plastic Pipes Market
Related Reports:
China Plastic Pipe Market Outlook to 2027F-By PVC, PE and Others Pipes, By Organized and Unorganized and By End User Application (Plumbing and Civil, Agriculture, Mining and Industrial, Telecom and Electrical and Others)
Brazil Plastic Pipes Market Outlook to 2027F-By PVC Pipes (Plain/Vinyl PVC Pipe – Hydraulic PVC and Sanitary PVC, CPVC and MPVC), HDPE Pipes (Corrugated HDPE and Solid Wall HDPE), By End User Applications (Infrastructure, Irrigation, Sewer, Mining, Water Distribution and Others)
Australia Plastic Pipe Market Outlook to 2027F-Segmented By PVC, PE and Others Pipes, By Organized and Unorganized, By Regions and By End User Application (Plumbing and Civil, Agriculture, Mining and Industrial, Telecom and Electrical and Others)