When it comes to constructing structures that stand the test of time, the pile foundation plays a pivotal role. Whether you're an architect dreaming up the next skyline-defining skyscraper or an engineer crafting sturdy infrastructure, understanding the fundamentals of pile foundations is essential.
In this article, we'll take a friendly and approachable journey through the world of pile foundations, breaking down the key aspects that every architect and engineer should know.
What is a Pile Foundation?
At its core, a pile foundation is a type of deep foundation system used to transfer structural loads from a building or structure to deeper, more stable layers of soil or rock. Piles are essentially long, slender columns driven into the ground, and they provide support by bearing the load vertically and/or laterally. Here are the essentials you should keep in mind:
Vertical Load Support: Pile foundations are excellent at handling vertical loads, such as the weight of the building itself and the various loads it will experience during its lifespan.
Lateral Load Resistance: In addition to vertical loads, pile foundations can also resist lateral forces, like wind or earthquake loads, thanks to their inherent stiffness and embedment in the ground.
Types of Pile Foundations
There isn't a one-size-fits-all approach to pile foundations. Different projects and soil conditions call for various types of piles. Here are some common types:
Driven Piles: These are piles that are forcefully driven into the ground using impact hammers. They can be made of materials like concrete, steel, or timber. Steel piles are particularly popular due to their strength and versatility.
Bored Piles: Bored piles, also known as drilled shafts, are created by drilling a hole into the ground and then placing concrete or reinforcing steel into the hole.
Screw Piles: These innovative piles are literally screwed into the ground. They offer ease of installation and are often used in areas with challenging soil conditions.
Factors Influencing Pile Foundation Design
Designing a pile foundation isn't just about picking a type of pile and driving it into the ground. There are several factors that need to be considered:
Soil Composition: Understanding the soil's characteristics and bearing capacity is crucial. Different soil types will interact with piles differently.
Load Requirements: The expected vertical and lateral loads the structure will experience dictate the number, size, and spacing of the piles.
Site Conditions: Factors such as water table level, presence of groundwater, and potential for settlement play a role in determining the appropriate foundation design.
Visit This Website – Pile Foundations Construction Work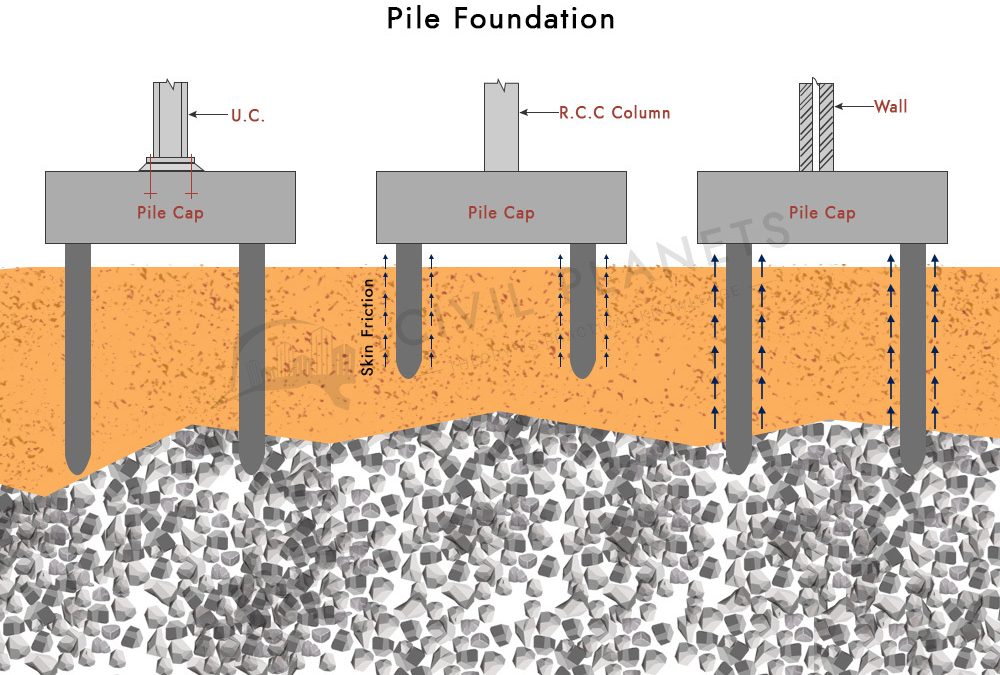 Installation and Testing
The success of a pile foundation depends not only on its design but also on its proper installation and testing:
Installation: Proper installation techniques are vital to ensure the piles are driven to the required depth and alignment. This often involves using specialised equipment and experienced operators.
Testing: Load testing, integrity testing, and dynamic testing are common methods used to verify the capacity and performance of pile foundations.
 
Final Thoughts – Collaboration is Key
Architects and engineers must work hand in hand when dealing with pile foundations. Effective communication and collaboration ensure that the foundation design aligns with the overall architectural vision while meeting structural integrity requirements.
In conclusion, understanding the basics of pile foundations is a must for architects and engineers alike. These deep foundation systems provide the support needed to create iconic skyscrapers, sturdy bridges, and resilient infrastructure. So, the next time you marvel at a towering building or drive over a massive bridge, remember that beneath it all lies the solid foundation of pile engineering.
Source – https://surefootfootingau.blogspot.com/2023/08/pile-foundations-101-essential.html